8 Best Laundry Room Wallpaper Ideas | Coloribbon
The laundry room has been considered the most boring, utilitarian space in our home and omitted by most designers. Surprisingly, the laundry room will become interesting and fabulous with some of the best laundry room wallpaper ideas as below. Even the laundry work will have much fun with a little change in your laundry room!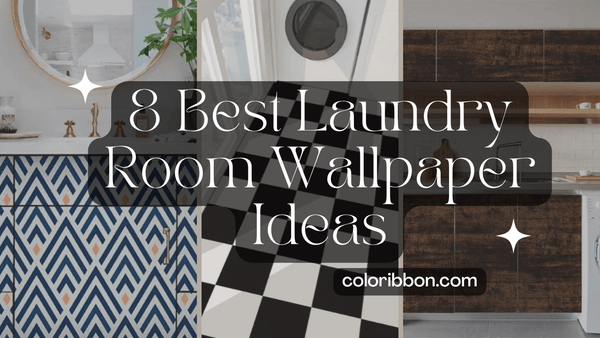 Peel and Stick Dark Brown Wood Grain Wall Mural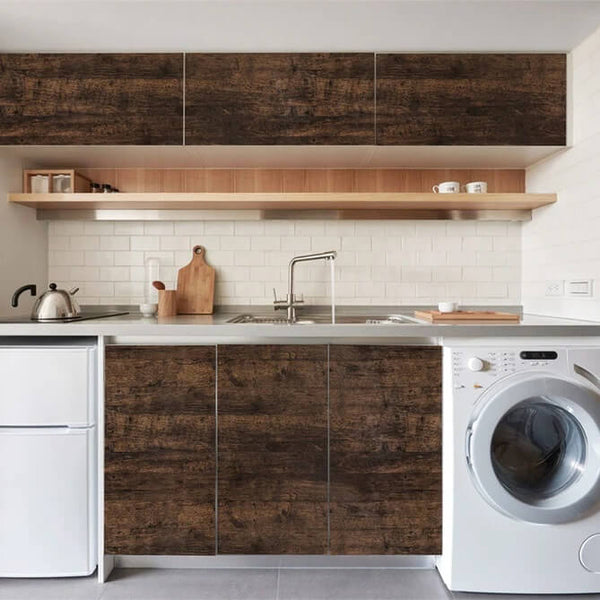 When people think about laundry room wallpaper ideas, wood wallpaper is rarely mentioned by designers. As a matter of fact, a wood grain wallpaper will bring a more natural feel to your laundry room. The Dark Brown Wood Grain Wallpaper can be used on walls, cabinets, or any smooth surface. 
Coloribbon PVC Fresh Leaf Self-Adhesive Wall Panel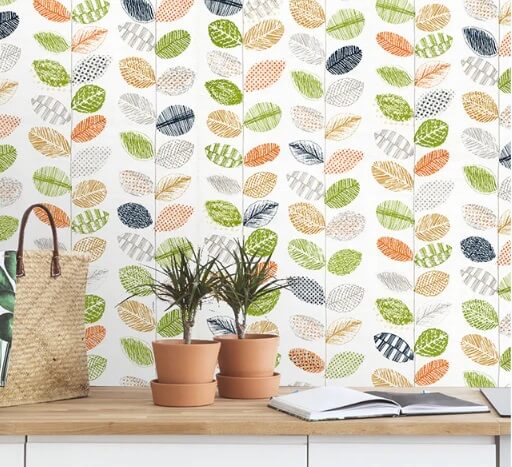 You might want your laundry room to have more fun. Here we have a fun laundry room wallpaper consisting of bright yellow and green colors. Our customers usually apply this wallpaper to their kids' rooms. But we surprisingly discover that this leaf wallpaper also pairs with the laundry room decors. 
Coloribbon PVC Non-slip Stitching DIY Floor Stickers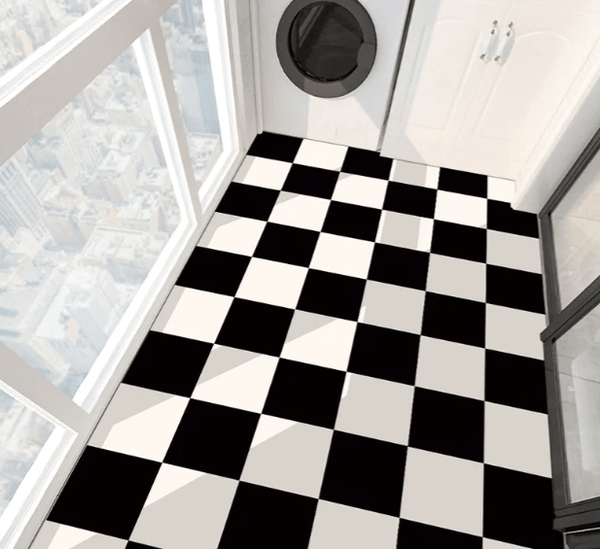 Black and white is always the classic color and will never be considered an outdated style. The Coloribbon checkerboard Floor Sticker is designed for both floor and wall. Featuring non-slip and waterproof, you hang this peel and stick wallpaper for laundry room anywhere you want. 
Peel and Stick Nordic Morandi Color Geometric Pattern Wallpaper
If you decide to wallpaper laundry room, the powder room and bathroom are where you cannot omit. This wallpaper supports wide usage and is able to work as your powder room wallpaper and bathroom wallpaper. The specially designed Morandi color combined with the geometric pattern makes the laundry room peel and stick wallpaper outstanding.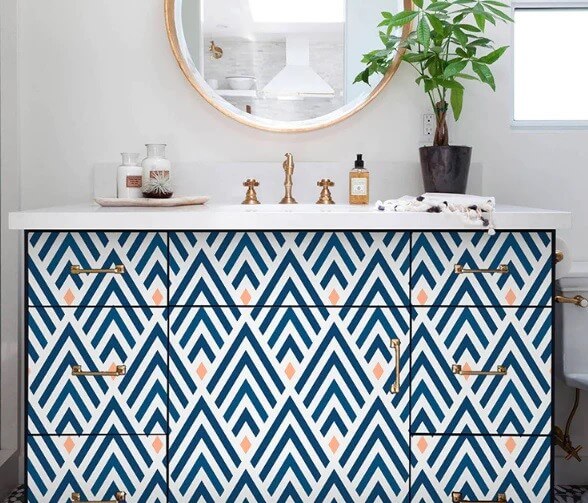 Vintage Blue Wood Grain Design Wallpaper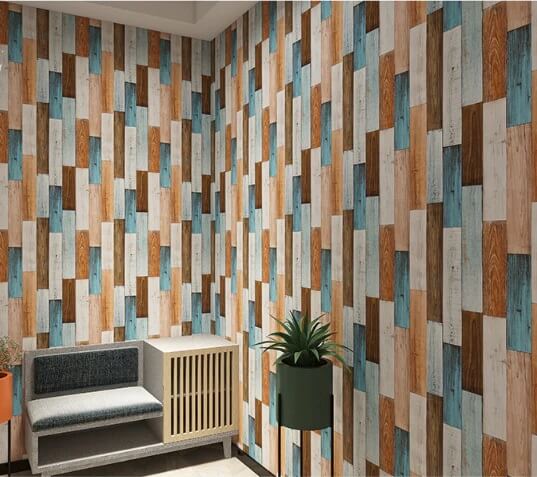 If you are more classic and into the wood pattern designs for wallpaper in laundry room, then the Coloribbon Vintage Blue Wood Grain Design Wallpaper should not be ignored. The classic patterns consist of blue, brown, gray, and white different colors. Do not wait to hang this laundry room wallpaper on your wall! 
Hexagon Folklore Custom Wall Sticker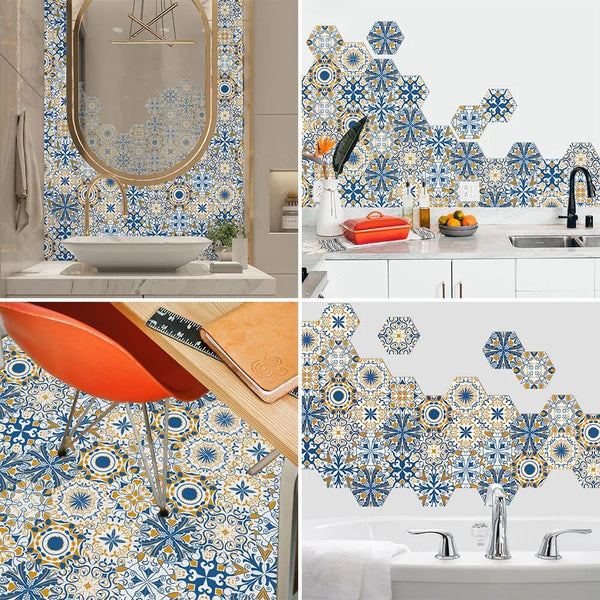 The chic and fun wallpaper for laundry roomfeatures vibrant folklore custom patterns. The fusion of blue and yellow colors is interspersed adding an unexpected finish and tonal profile perfect for your laundry room wall or even floor.   
Coloribbon Grasscloth Peel and Stick Wallpaper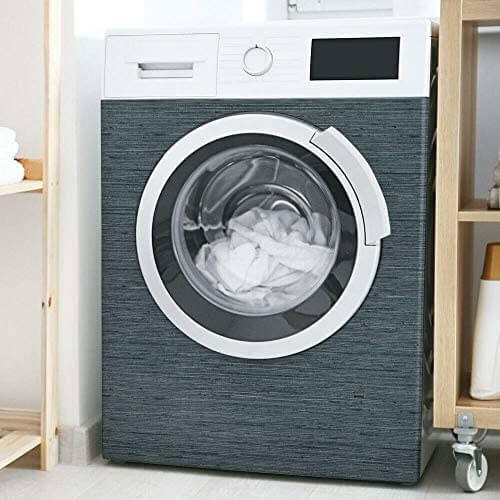 Do you prefer the grasscloth wallpaper? If so, our suggestion is this Grasscloth Peel and Stick Wallpaper. Coloribbon offers blue, light gray, brown, tan, dark gray, beige & grey, pink & taupe, 8 different artistic shades of this laundry room peel and stick wallpaper.
Peel and Stick Hemp Brown Wood Grain Wallpaper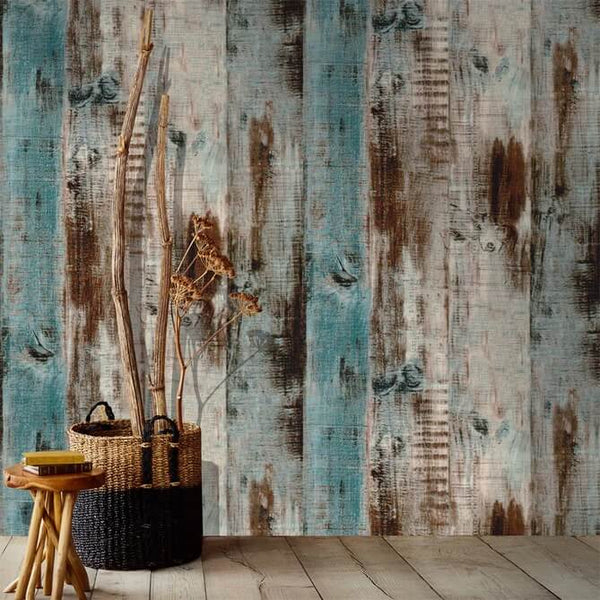 Why not add some vintage farmhouse feelings to your laundry room or even the whole house? Peel and Stick Hemp Brown Wood Grain Wallpaper has the traditional farmhouse style but also works naturally with other designs in your laundry room. Our suggestion is to use items in vintage style or wood material to pair with this wallpaper.