How Much Does Wallpaper Cost? Installation and Removal | Coloribbon
You will notice most of the outstanding home decor shared on the internet apply this opponent - wallpaper. Wallpaper especially removable wallpaper has been described by numerous decor professionals as the most effective and budget-friendly way to improve any space to a higher stage. How much does wallpaper cost to install and remove? Now we are going to explain the cost to install wallpaper as well as the wallpaper removal cost.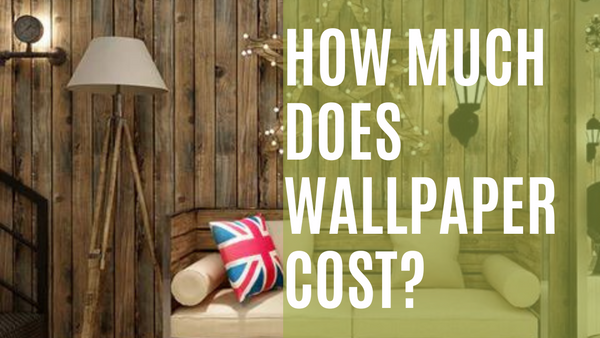 What is the cost to install wallpaper?
The cost of wallpaper installation depends on whether you want to hire a professional or DIY by yourself. 
Hire a professional: Hire a professional to cope with all the items about installing wallpaper. Then the total wallpapering prices will be roughly twice your wallpaper cost. The labor rate per sq.ft. basically ranges from $2 to $6. You may need to pay around $40 to $70 per hour for the wallpaper installation service. The price for wallpaper installation in a normal bedroom will be from $450 to $1000. Generally, the professionals will ask for payment for the whole project rather than based on the time it cost.   
DIY by yourself: If you tend to install your wallpaper by yourself, you can save a lot for the installation fee. What's you need to pay is the price of wallpaper itself and the cost of the instruments used for the installation of wallpaper. To install wallpaper by yourself, you need sponges, rollers, brushes, paste, and blades, which will cost around $100. However, you may save up to $1000 by installing wallpaper by yourself. But possibly you are not familiar with the installation process and may ruin your wallpaper and wall during the installation. 
Compared to traditional wallpaper, peel and stick wallpaper is much easier to install. You do not need any glue, brush, or other professional instruments. Just peel and stick. Most of the peel and stick wallpaper users will choose to DIY by themselves and they save a lot on the wallpaper installation.  
How much is wallpaper itself?
The ordinary wallpaper costs from $25 to $50 per roll. The cost to wallpaper varies on the brand, quality, and material. To decorate an ordinary bedroom, the wallpaper prices are from $400 to $900. If you choose some high-end wallpaper such as some designer wallpaper, the price per roll can be up to $250.
On the other hand, peel and stick wallpaper is much more inexpensive. You will find it priced from $2.99 per PCS and up to $25.99 per roll.  
How much does it cost to remove wallpaper?
It is difficult for some people to remove the old and outdated wallpaper before utilize any new idea on the wall. Hiring professionals always simplify matters but is really costly. In general, you have to pay an average of $500 for the wallpaper removal cost. But there are still some reasons for the contractors to increase the cost to remove wallpaper, including unprimed drywall or drywall damage. 
Why not remove wallpaper by yourself? It may take a whole weekend for you to remove wallpaper. But you will feel much proud of yourself after finishing a room. Try to peel off a corner of your wallpaper to see if you can remove it simply by yourself. What you only need is some tools such as scrapers, steamers, glue-dissolving solvents, sponges, and a perforator. And here we have a detailed guide: How to remove wallpaper.  
Suggestion to save: Use removable wallpaper
Removable wallpaper, also called peel and stick wallpaper is a replacement that is worth trying if you are looking for ways to cut down the cost of wallpapering your home. Removable wallpapers have as many designs as traditional wallpaper. And they can be used almost anywhere in your home even the bathroom and kitchen. Here are some high-end waterproof peel and stick wallpapers. 
Brick Wallpaper Peel and Stick 3D Wallpaper
The brick wallpaper is a beautiful and easy addition to your home, bedroom, living room or kid's room! It is not only easy to apply or remove, but it will never damage your wall without glue residue.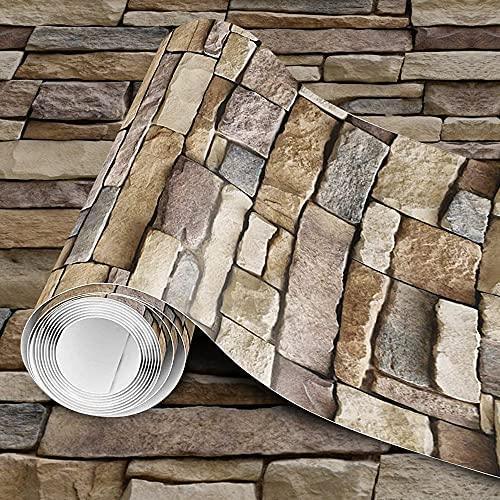 Peel and Stick Vintage Wood Grain Design Wallpaper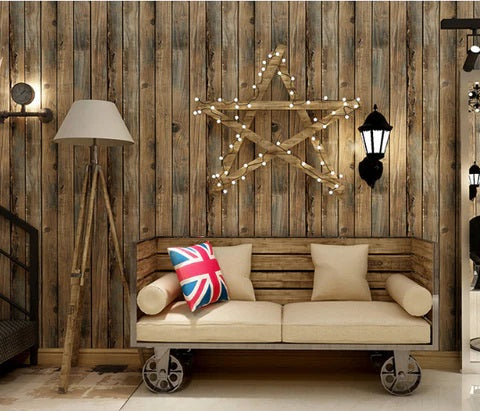 This dark wood grain wallpaper is marvelous! Waterproof and high-quality, the Coloribbon wood grain wallpaper is able to be used on any smooth and clean surface even your furniture.