Wallpaper VS Paint: Which Should You Choose?| Coloribbon
Wall decoration appears to be a major part of your home decor. Wallpaper and wall painting are the most common solutions for wall decor. Which method will be the best option for your home? We look through the most important factors of wallpaper vs wall painting such as expense, durability, preparation time, and usage and hope you will find the decor way suits your home.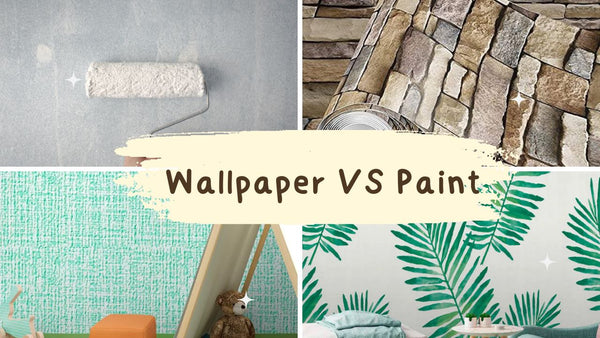 Wallpaper vs painting - Introduction
Before we contrast wallpaper with painting, we will first lead you to know more about wallpaper and painting.
Wallpaper is a kind of material used in the home or office interior decoration. Some tile stickers can also be piled on the floor, ceiling, or door. There are multiple kinds of wallpapers including vinyl wallpaper, printed wallpaper, peel and stick wallpaper, and more. Wallpaper is a temporary solution for your wall decor because you can remove wallpaper whenever you want.
Paint is a liquid material and wall painting has been in trend for years. You will find wall painting also has several types: latex-based wall painting, textured wall painting, gloss wall painting, and more. 
Paint vs wallpaper - cost
When we consider wallpaper or paint which is better, the first aspect is wallpaper vs paint cost. In general, for the cost of wallpaper vs paint, you will find that wall painting is cheaper. However, wallpaper lasts longer than ordinary paint. Of course, you can buy paint with higher quality which probably lasts longer, but they are usually more expensive. Besides, you need to pay for the supplies such as brushes, paint trays, rollers, and tape, if you finally go with the wall painting. Another choice is peel and stick wallpaper, which is cheaper than traditional wallpaper and can be removed easily.
Painting vs wallpaper - Usage
You'd better build the wallpaper in the living room, bedroom, or kid's room, where your wallpaper does not have to cope with the extreme temperature and humidity. Some waterproof peel and stick wallpapers have wider usage. On the other hand, you should keep the painting away from your children to avoid scratches. Sometimes, the combination of wall painting and wallpaper is the best choice for your home.  
Waterproof Peel & Stick PVC Marble Wallpaper Sticker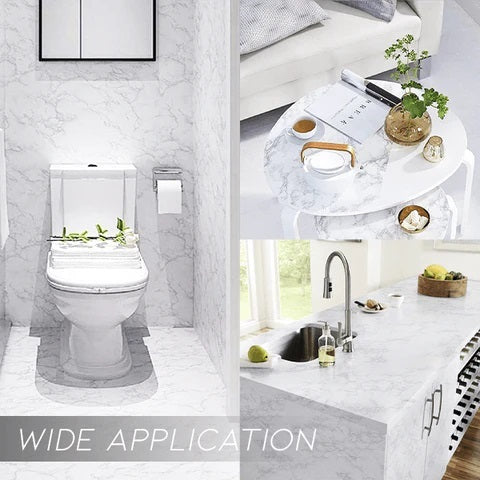 With waterproof material, this wallpaper can highly protect the surface of the original wall from oil, moisture & stain of liquid. The peel and stick waterproof wallpaper can be easily installed at countertop, toilet basin, kitchen, bathroom, and more.
Wallpaper vs paint - variety
Both wallpaper and painting can enhance the aesthetic appeal of your home if you finish them well. You have wide options for wall painting. Try glossy or non-gloss paint as well as solid color wall painting or paint patterns on your wall. But you may need to hire someone to paint patterns for you since it is too hard for most people.
You can find any kind of wallpaper you imagine from wallpaper online shops located all over the world. They provides from wood grain wallpaper, stone grain wallpaper, and brick grain wallpaper, to classic vintage wallpaper, contemporary wallpaper, and Nordic wallpaper. designers lie their incredible dreams on wallpapers so that you can decorate your home.
Peel and Stick Brick Wallpaper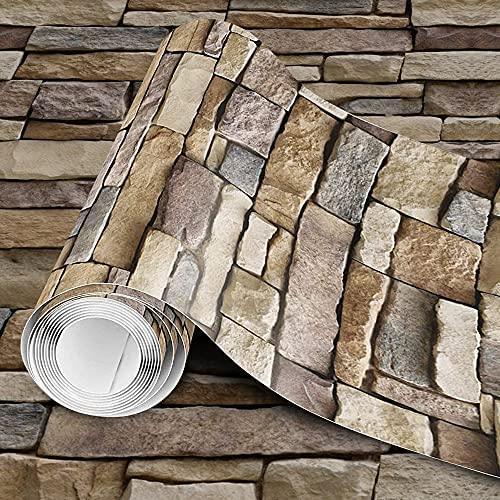 With this brick peel and stick wallpaper, you can make an accent wall, backdrop for family photos, or just cheaply and easily redecorate a stale and drab room.
Painting vs wallpaper - Preparation and installation
You need to prepare for both wall painting and wallpaper. Some people argue that wall painting is easier than wallpaper. However, spackling and sanding is still necessary for wall painting. Both of the 2 solutions require most of the time to prepare the wall before installing wallpaper or painting. The traditional wallpaper may need more time to match and align the wallpaper. However, you are required to wait for a few days for the drying of oil-based paints, whereas only a day or shorter is needed to cover a house with wallpaper.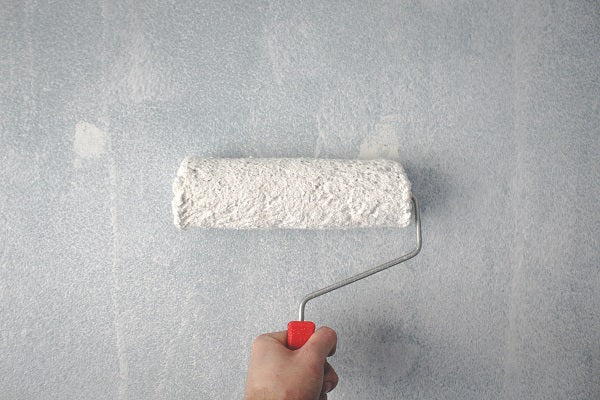 The easiest selection is peel and stick wallpaper. Without any tools or professional helpers, peel and stick wallpaper can be installed easily by yourself, since what you only need to do is peel it and stick it to the wall. 
Wallpaper vs painting - Durability and maintenance
Wallpaper is easy to clean, you can easily wash your wallpaper with water when your wallpaper is waterproof. You can check the full guide for cleaning wallpaper. Concerning the durability of wallpaper, the life of wallpaper is longer than painting. Your wallpaper can work for your home decoration for up to 15-20 years if nothing happens to it. However, when your wallpaper is scratched accidentally, the whole part has to be changed if you want to repair it.
You are required to do the wall painting again every 5 years. And its life may become longer or shorter when the environment changes or the quality of paints you use. What needs your attention is that some cheap paint contains some chemicals which are bad for your health and the environment.